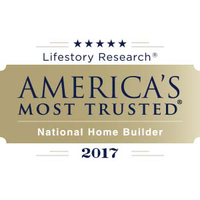 BIASC Members Make the List of the Top 20 Most Trusted Homebuilders in America
According to the results from the 2017 America's Most Trusted® Home Builder Study by Lifestory Research, Building Industry Association of Southern California, Inc. (BIASC) members, Taylor Morrison, Richmond American, Khovnanian Homes, Toll Brothers, Shea Homes, William Lyon Homes, CalAtlantic Homes, TriPointe Homes, Meritage Homes, Lennar, Beazer Homes, D.R. Horton, Pulte Homes, and KB Home, have made the list of the Top 20 Most Trusted Homebuilders in America.
After tabulating the opinions of home shoppers and identifying the home builder that is trusted the most among the nation's largest builders, Taylor Morrison take the top spot on the list. This is the second consecutive year in which Taylor Morrison has been identified among home shoppers as being the home builder they trust the most among the nation's largest builders.
"Relationships and trust are the foundation of success for any business," said Taylor Morrison President and CEO Sheryl Palmer, whose company was also ranked No. 1 in last year's study. "Every day we strive to provide our customers with the resources and support to help them make an educated decision about their most important investment."
Taylor Morrison operates in 16 regional markets across nine states – Arizona, California, Colorado, Florida, Georgia, Illinois, N. Carolina, S. Carolina and Texas – and closed more than 6,300 homes in 2015.
The study, based on 31,764 consumer opinions, tracks how trust impacts consumers' evaluations of home builder brands. Consumer opinions are collected over the course of the prior 12 months in the largest home building markets in the United States. To qualify to participate in the study, participants must have indicated that they were aware of specific brands and actively shopping for a new home.
See the table below for Lifestory Research's full top 20 rankings.
| | | |
| --- | --- | --- |
| Rank | National Home Builder | Index Score |
| | | |
| --- | --- | --- |
| 1 | Taylor Morrison | 115.4 |
| 2 | Richmond American | 113.7 |
| 3 | Khovnanian Homes | 113.2 |
| 4 | Toll Brothers | 113.1 |
| 5 | Shea Homes | 112.9 |
| 6 | Ashton Woods | 112.8 |
| 7 | William Lyon Homes | 112.6 |
| 8 | David Weekley Homes | 112 |
| 9 | CalAtlantic Homes | 112 |
| 10 | TriPointe Homes | 111.5 |
| 11 | LGI Homes | 111.2 |
| 12 | Meritage Homes | 111 |
| 13 | M/I Homes | 110.4 |
| 14 | Century Communities | 109.5 |
| 15 | Lennar | 108.9 |
| 16 | Beazer Homes | 108.3 |
| 17 | D.R. Horton | 107.8 |
| 18 | Pulte Homes | 107.6 |
| 19 | Ryan Homes | 107.6 |
| 20 | KB Home | 103.3 |
---