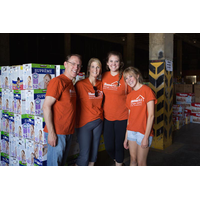 HomeAid Orange County's executive director and chairman of the county's Commission to End Homelessness, Scott Larson, was honored at the OC Human Relations Awards 45 presentation in Anaheim on Thursday, May 4.
Scott Larson of Irvine, executive director of HomeAid Orange County and chairman of the county's Commission to End Homelessness. Larson was honored for his work on the county's 10-year plan to end homelessness and the effort to build a year-round shelter for the homeless that is expected to open in Anaheim this year.
BIASC member, Disneyland Resort, was also honored for its commitment to inclusiveness and promotion of diversity in how it recruits, hires and trains employees (referred to by the company as "Cast Members") and other activities that include involvement in the multimillion dollar Accelerate Change Together initiative in Anaheim.
The ceremony will recognize honorees in four categories. Diverse Community Leaders, honoring individuals and groups for extraordinary contributions to Orange County in human or civil rights.
This year marks the 45th anniversary for OC Human Relations, which started in 1971 as the county government-appointed Orange County Human Relations Commission and has evolved into a nonprofit. The event celebrates efforts that embrace diversity and promote justice in Orange County.
---