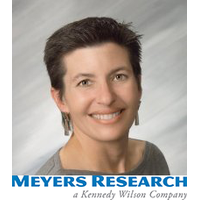 Tim Sullivan, Practice Leader of Meyers Research, a Kennedy Wilson Company, today announced that Annie Gerard joined the firm as Vice President, Advisory.
"We are thrilled with the latest addition to our advisory practice. With Annie, we add an experienced executive with multifamily and senior housing expertise." - Tim Sullivan, Practice Leader
A 35-year market analyst veteran, Annie specializes in apartment research and age-qualified (55+) apartment research. She has conducted over 400 senior apartment studies in addition to hundreds of analyses of conventional, affordable, and mixed-income properties for major developers, lenders and municipalities. Prior to joining Meyers, Annie was co-founder of Apt Market Research (2004-2015) and Vice President of the Seniors/Multi-Housing Research division of Eliant (1998-2004).
Annie is a noted expert in the industry as one of the first Certified Active Adult Specialist in Housing (CAASH) designees in the nation and a founding director for the country's first local 55+ Housing Council chapter (Builders Industry Association/Southern California). She is a frequent speaker and columnist on trends in the apartment and senior apartment arenas. Annie is a Phi Beta Kappa graduate of University of California, Berkeley with a B.A. in Sociology.
She will be based in the firm's Costa Mesa, CA office, working in conjunction with the apartment/senior housing team headed by Kimberly Byrum (Dallas, TX). Annie will play a key role in broadening the advisory firm's multifamily expertise into the West Coast.
"I'm very pleased to be joining a firm that I've long admired," said Annie. "It's exciting to team with this group of talented, creative researchers and advisers at a time when there is so much innovation and activity in the apartment arena and the whole continuum of age-qualified housing."
---