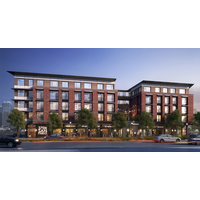 EAH Housing, City of Emeryville, KTGY Architecture + Planning Celebrate Groundbreaking of Estrella Vista in City of Emeryville
IRVINE, CALIF. – International award-winning firm KTGY Architecture + Planning announces that nonprofit developer, manager and advocate of affordable housing EAH Housing and the City of Emeryville celebrated the ground-breaking of a new 86-unit transit-oriented mixed-use residential development on Wednesday, October 11, 2017, at 3706 San Pablo Avenue in the downtown area of Emeryville, Calif. The new $64 million multi-family rental community answers the demand for more family-friendly housing near transit and will provide up to four-bedroom apartment homes to households earning 30 to 60 percent of Alameda County's area median income. Walk Score gave the location a score of 90, calling it a "Walker's Paradise." Residents can walk to the MacArthur BART station, which is just 0.7 miles away, or take a bus from the property to BART. Walk Score also called the location "Very Bikeable."

"We recognize that California, specifically the Bay Area, has been in a housing crisis for a while," said Mary Murtagh, president and CEO of EAH Housing. "The last new affordable community EAH built in the Emeryville/Oakland area had over 5,000 applications for 100 apartment homes. To get to this point, everyone worked hard. KTGY and EAH Housing are proud that hundreds more people, including children and seniors, will soon have an affordable place to call home at Estrella Vista."

This project was awarded to EAH in 2012, after undergoing an extensive RFP process with the City of Emeryville. From the beginning, EAH's goal has been to provide an affordable family development to the community that is indistinguishable in quality from other market-rate communities in the area. KTGY embraced this goal and designed the future residences around a series of outdoor spaces geared to serve families at different life stages, explained Jessica Musick, associate principal in KTGY's Oakland office.

Estrella Vista's design features four main outdoor areas for families living at 3706 San Pablo Avenue. A large central courtyard offers play equipment for children while the Zen Garden and Adult Overlook offer space for young adults and parents to retreat. All courtyards are elevated above street level and provide safe places for families to gather. The new residential community also provides an outdoor sky deck space at the sixth level with views to 37th Street and beyond.

According to Musick, Estrella Vista's architectural style blends contemporary design with historic references to fit the context. "We wanted to celebrate the special character and history of this city and took our design inspirations from the city's industrial beginnings and incorporated the use of bricks on the facade," said Musick.

Since the project is located on a very visible corner, the design creates a strong street presence through signature exterior elements at the corner building. The design also incorporates public art as part of the city development requirements. KTGY is collaborating with local artist Eric Powell to integrate a significant piece of public art into the overall design of the architecture.

The widened San Pablo Boulevard frontage will encourage pedestrian traffic with relief from San Pablo Avenue and allow for additional street landscaping, notes Musick. The new development will also include nearly 7,000 square feet of street-level retail.

Estrella Vista will be environmentally-sensitive and constructed using sustainable building methods. A number of 'green' features designed to ensure its long-term energy-efficiency and sustainability will be incorporated including photovoltaic solar panels, a solar water heating system, low-flow plumbing fixtures, recycled materials, energy-efficient appliances and lighting, and water-efficient landscaping. Power for the electric vehicle charging stations will be supplemented by the rooftop photovoltaic solar panels. The community will encourage bicycle usage with bicycle racks at several locations along the property's commercial frontage.

EAH Housing plans to pursue USGBC's LEED Gold specification, one of the toughest industry guidelines for sustainable building and maintenance.

Completion is slated for September 2019.

About EAH Housing
EAH Housing is one of the oldest nonprofit housing management and development organizations in the western United States, with a management portfolio of more than 100 properties in California and Hawaii for families, seniors, students and people with disabilities. Government officials, community leaders, lenders, and most importantly, over 20,000 residents know EAH has a capable and trustworthy organization motivated by an authentic concern for the people it serves. See www.eahhousing.org

About KTGY Architecture + Planning
Celebrating 25 years, KTGY Architecture + Planning is an international award-winning full-service architecture and planning firm delivering innovation, artistry and attention to detail across multiple offices and studios, ensuring that clients and communities get the best the firm has to offer no matter the building type or location. KTGY's architects and planners combine big picture opportunities, leading-edge sustainable practices and impeccable design standards to help create developments of enduring value. KTGY serves clients worldwide from offices located in Chicago, Denver, Irvine, Los Angeles, Oakland, Pune and Tysons. Visit www.ktgy.com
---