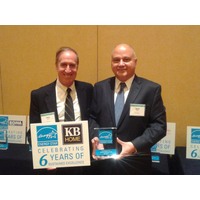 The U.S. Environmental Protection Agency (EPA) has recognized KB Home with its sixth consecutive ENERGY STAR Partner of the Year - Sustained Excellence Award in 2016 for its ongoing leadership in protecting the environment through superior energy efficiency achievements. Additionally, EPA has recognized KB Home for the third year in a row with an ENERGY STAR Climate Communicator Award for its outstanding efforts to elevate the issue of climate change.
KB Home's accomplishments were recognized by the agency in Washington, D.C. on April 13, 2016. KB Home, an industry leader and ENERGY STAR partner since 2000, will be honored for its long-term commitment to energy efficiency. The nearly 96,000 ENERGY STAR certified KB homes built to date are estimated to save as much as $29 million on utility bills while preventing greenhouse gas emissions equivalent to those from 34,000 passenger vehicles each year.
KB Home is the only production homebuilder to earn ENERGY STAR's Partner of the Year - Sustained Excellence award for six years in a row, and is also the first and only homebuilder to receive ENERGY STAR's Climate Communicator award for three consecutive years.
"It is an honor to be recognized with these prestigious ENERGY STAR awards for building highly energy-efficient homes and for our initiatives to educate consumers about the positive impact energy efficiency can have on the environment," said Jeffrey Mezger, president and chief executive officer of KB Home. "Building homes to a high level of energy efficiency delivers measurable value to our buyers and can help lower their total cost of homeownership substantially compared to a typical resale home."
Since its inception in 1992, ENERGY STAR and its partners have helped prevent a total of more than 2.4 billion metric tons of greenhouse gas emissions. In 2014 alone, ENERGY STAR and its partners provided more than $11 billion in societal benefits due to reducing damages from climate change.
"By continued collaboration with ENERGY STAR, KB Home is helping Americans save money, save energy, and do their part to reduce our nation's greenhouse gas emissions that exacerbate climate change," said EPA Administrator Gina McCarthy. "I'm proud to recognize KB Home with the highest form of ENERGY STAR recognition, as the winner of the 2016 Partner of the Year - Sustained Excellence Award. KB Home demonstrates a strong commitment to energy efficiency and to preserving a healthy planet for future generations."
The 2016 Sustained Excellence Awards are given to a variety of organizations to recognize their contributions to reducing harmful carbon pollution through superior energy efficiency efforts. These awards recognize ongoing leadership across the ENERGY STAR program, including energy-efficient products, services, new homes, and buildings in the commercial, industrial, and public sectors.
---