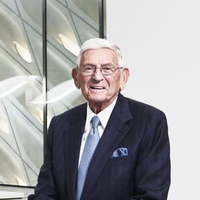 KB Home founder, Eli Broad, was recognized in a recent "capsule" article on Time by former New York Mayor and media and business information empire builder Michael Bloomberg as one of Time's 100 Most Influential People for 2016.
Bloomberg saluted his fellow titan as "one of the world's most successful entrepreneurs—not only in business but in philanthropy too." Bloomberg noted that the two Fortune 500 companies Broad built—KB Home and SunAmerica, Inc.—have helped people own homes and retire with security.
KB Home is a homebuilding company based in the United States, founded in 1957 as Kaufman & Broad in Detroit, Michigan. It was the first company to be traded on the NYSE as a home builder and was a Fortune 500 company from 2000 through 2008.
---