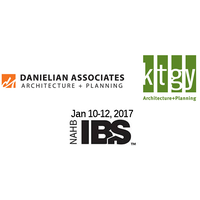 John Danielian, Managing Principal of Danielian Associates; Cassie Cherry, Director of Marketing for Danielian Associates; and Michael Medick, a registered architect and urban planner with KTGY Architecture + Planning, will be speaking Tuesday, January 10 at the 2017 National Association of Home Builders (NAHB) International Builders' Show (IBS) in Orlando, Florida.
The BIA of Southern California (BIASC) members will be discussing affordable housing options for millennial buyers, inter-generational households, and move-down buyers across the country.
The advanced session, titled "Attaining Affordable Housing with Unique Density Solutions" will offer "'beyond the box' design and density solutions that make housing affordable and prove that amazing designs don't always need to come with a steep price tag.
This session will also focus on the 'missing middle' types of housing, including varying densities, compatible forms, blended neighborhoods and integration of shared community spaces—all of which are used to create vibrant neighborhoods that are sought after by all generations."
The 2017 NAHB International Builders' Show (IBS) will take place January 10 through 12 displaying 565,000 net square feet of exhibits and more than 1,400 manufacturers and suppliers of the latest and most in-demand products and services. NAHB IBS is the largest annual light construction show in the world, every year attracting more than 60,000 visitors from 100 countries.
Participants for the "Attaining Affordable Housing with Unique Density Solutions" session must be registered for a full registration package or a 1-day education with expo pass package valid for the day of the session they wish to attend.
NAHB is also offering 1.00 CE hour(s) of continuing educational credit, NKBA is offering 0.1 CEU(s), and AIA – 1.0 LU Hour(s) to session attendees. Seating for Building Knowledge sessions will be on a first-come, first-served basis.
The session, on Tuesday, January 10, will take place in room W311C from 9:30 a.m. to 10:30 a.m.
Learn more about and register for the session here.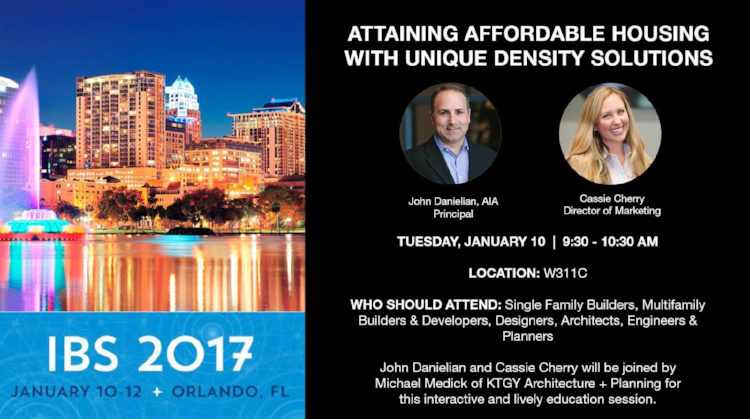 ---