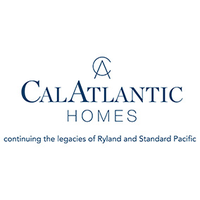 On Saturday, April 2, the Home Builders Association (HBA) of Greater Austin awarded CalAtlantic Homes with the Grand MAX Large Volume Builder of the Year Award for the second consecutive year at their annual Marketing and Advertising Excellence (MAX) Awards and Gala. Continuing the legacies of Ryland and Standard Pacific, CalAtlantic Homes, one of the nation's largest homebuilders, was formed through the merger of two industry icons on October 1, 2015. CalAtlantic is now building in 30 communities throughout the greater Austin area ranging from entry level to luxury communities.
"We are extremely honored to be named as Builder of the Year by the Home Builders Association of Greater Austin for the second year in a row," said April Solimine, Vice President of Sales and Marketing for CalAtlantic Homes in Austin. "We strive to design homes that blend sophistication and flexible design for buyers of all lifestyles. This award acknowledges that we are achieving our goal of providing the utmost in home choice, quality and value — all created with our longstanding tradition of excellence in design and craftsmanship."
The MAX Awards is presented by the HBA of Greater Austin, which is made up of more than 750 home building industry firms. Since 1953, the Home Builders Association (HBA) of Greater Austin has served as the leading not-for-profit trade organization dedicated to residential construction and remodeling in Central Texas. The HBA works with government, public, business and community organizations in six counties – Bastrop, Caldwell, Hays, Lee, Travis and Williamson – to protect every family's right to home ownership.
---